Black Fly (Simulium)
Simulium (Black Fly) is an insect genus that prefers flowing (highly oxygenated) waterways. These biting insects are known mainly as uncomfortable pests in Brazil, but they present significant health risks in other parts of the world.
Black flies populations can grow to such a number that outdoor activities in the affected area become more or less intolerable. The effects range from a negative impact on lifestyle to a strong economic impact on companies that depend on outdoor activities.
Simulium control in other parts of the world focuses on the insect's ability to vectorize the disease, mainly a type of subcutaneous filariasis called onchocerciasis (river blindness). Onchocerciasis is caused by a nematode carried by the black fly. When a black fly bites, the nematode is transferred to the bloodstream, where it can migrate to the eyes, causing blindness. Both man and cattle are susceptible to the disease.
Black flies lay their eggs in running water. A few days later, the larvae emerge and begin to feed while clinging to underwater rocks and vegetation.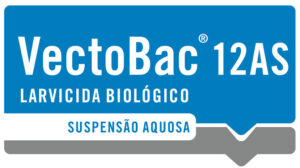 APLICAÇÃO DO VECTOBAC® 12AS PARA CONTROLE DE BORRACHUDOS
1ª etapa:
Limpeza do curso d´água – desobstrução do rio pelo lixo, vegetação caída,…..
Limpeza das bordas de vegetação rasteira: aguapés, vegetação ribeirinha caída na água (roçar)
2ª etapa:
Calibrar um regador para que despeje água durante 01 minuto, quantos litros forem necessários;
Colocar no regador junto com a água a dose de BTI recomendada;
Agitar a calda;
Aplicar numa faixa transversal ao curso d´água como se estivesse regando, de uma borda a outra durante 01 minuto, sempre de uma borda a outra;
Acompanhar visualmente até onde persiste a "espuma" formada pelo produto (geralmente de 40 a 80 metros);
Definir no final da presença da espuma o novo ponto de aplicação;
Seguir o procedimento até o novo ponto de aplicação.
3ª etapa:
Reaplicar o produto somente quando aparecerem larvas de médio tamanho (3º instar). Isto geralmente ocorre 15 dias após a aplicação no verão e 20 a 25 dias no inverno;
IMPORTANT OBSERVATIONS:
Apply VectoBac® 12 AS only in flowing water which is the place where the larvae develop;
Do not apply after heavy rains, wait to normalize the river flow;
If applied in dams, only in spillways;
Do not increase the dose of VectoBac® 12 AS, nor shorten the reapplication time, the effect will be the same;
Do not apply the product on grass or in places where adult mosquitoes are, VectoBac® 12 AS only acts on larvae and these are in flowing water;
VectoBac® 12 AS is totally harmless to humans, domestic animals and livestock, including fish and fry.
The leftover VectoBac® 12 AS for the next applications must be stored in a place protected from solar radiation and temperature variations. Cool and shady place.